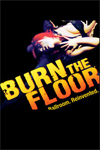 Burn The Floor - Fire in the Ballroom
Au Peacock Theatre
Prix à partir de € 66.70
Burn The Floor is a breathtaking blend of Latin and Ballroom dance first conceived as a special performance at Sir Elton John's 50th birthday celebration in 1997. Two years later the show made its world premiere in the UK and quickly took the globe by storm.

From Harlem's hot nights at The Savoy, where dances such as the Lindy, Foxtrot and Charleston were born to the Latin Quarter where the Cha-Cha, Rumba and Salsa steamed up the stage, Burn The Floor takes audiences on a journey through the passionate drama of dance. The elegance of the Viennese Waltz, the exuberance of the Jive, the intensity of the Paso Doble - audiences will experience them all, as well as the Tango, Samba, Mambo, Quickstep and Swing.

Burn The Floor brings the talents of 20 award winning international dancers from around the globe - Great Britain, Germany, Italy, Russia, Australia, Sweden, The Philippines and the U.S.- and includes Australian Ballroom and World Latin American champions.

The dancers, who collectively hold more than 100 dance titles, move to the vision of artistic director and choreographer Jason Gilkison.
Très bien
4.0
2 les avis de nos clients
Belle énergie!
Quelle belle énergie et quelle technique extraordinaire! Ça, c'est un délice d'apprécier tant de maîtrise. Il y a dans ce casting des danseuses et des danseurs magnifiques. Bémol: le manque de fil rouge et les danses de salon "romantiques" très américaines.
excellent spectacle tres professionnel on a adoré
beaucoup apprécié
Très bien
4.0
2 les avis de nos clients
Informations sur le lieu
Informations sur le spectacle
Soirées
Monday, Wednesday to Thursday 7.30pm, Friday and Saturday 8pm
Matinées
Thursday 3pm, Saturday and Sunday 4pm
Joue de
2016-11-04
Joue jusqu'à
2016-11-05
Durée du spectacle:
2 hours
Itinéraire

Take the Central or Piccadilly Line to Holborn station. The theatre is a 10 minute walk.

Regardez la carte