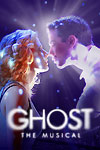 Ghost The Musical
Sur Piccadilly Theatre
Prix de € 72.10
Basé sur le film du même nom primé aux Academy Award avec à l'affiche Patrick Swayze, Whoopi Goldberg et Demi Moore, la comédie musicale Ghost arrive au Piccadilly Theatre de Londres dès l'été prochain.

Basée sur le film fantastique primé aux oscars de la Paramount Pictures et écrit par Bruce Joel Rubin, avec à l'affiche Patrick Swayze, Demi Moore and Whoopi Goldberg, la flamboyante nouvelle comédie musicale GHOST sera lancée au Piccadilly Theatre en juin 2011.

Une comédie fantastique intemporelle sur le pouvoir de l'amour, dans laquelle le fantôme Sam est pris au piège entre ce monde et le suivant, alors qu'il tente de communiquer avec sa petite-amie Molly, par l'entremise d'une médium, dans l'espoir de la sauver de l'assassin qui la poursuit.

Une course effrénée entre romance, drame et suspense, dont le scénario primé aux oscars à été adapté pour la scène par Bruce Joel Rubin. La nouvelle musique de GHOST est à couper le souffle, signée par des artistes de renom primés aux Grammy Awards, tels que Dave Steward (du groupe Eurythmics) et Glen Ballard (compositeur de la chanson Man in The Mirror de Michael Jackson), sans compter l'incontournable « Unchained Melody ».

Fort d'une mise en scène signée par le multi-oscarisé Matthew Warchus, d'une création de Rob Howell et d'effets spéciaux spectaculaires de Paul Kieve (illusionniste du film Harry Potter et le Prisonnier d'Azkaban), GHOST vous offrira une soirée magique qui saura vous enchanter par ce qui promet d'être le spectacle de l'année 2011.
Ghost The Musical Critiques
"Looks set to keep audiences laughing, gasping and sniffling back tears for a long time to come."
Daily Telegraph
---
"A new West End Hit has landed."
Time Out
---
Ghost The Musical Communiqué de presse
Ghost the Musical at Piccadilly Theatre GHOST is a timeless fantasy about the power of love. Sam is trapped as a ghost between this world and the next trying to communicate with his girlfriend Molly ...


Plus d'info
Informations sur le lieu
Informations sur le spectacle
Soirées
Monday to Saturday 7.30 pm
Matinées
Thursday and Saturday 2.30 pm
Joue de
2011-06-24
Joue jusqu'à
2012-10-06
Durée du spectacle:
2 hours 30 minutes
Trouver le théâtre
Trouver le théâtre
(2mins) Pass the famous illuminated signs on your right to take Glasshouse Street/Sherwood Street where the theatre can be seen.

Regardez la carte