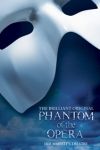 Phantom of the Opera
Sur Her Majesty's Theatre
Prix de € 44.20
Le fantôme de l'Opéra (Phantom of the Opera) est LA comédie musicale entre toutes. Le chef d'œuvre d'Andrew Lloyd Webber occupe les scènes londoniennes depuis plus de 20 ans. Achetez ici vos places pour le Fantôme de l'Opéra.

Adaptée du célèbre roman à suspense français dont le personnage légendaire et terrifiant surgit des profondeurs de l'Opéra de Paris, cette comédie musicale donne vie au fantôme de l'opéra mythique de façon effrayante. Avec des décors, costumes et effets spéciaux parmi les plus superbes jamais créés pour le théâtre, le Fantôme de l'Opéra est une véritable merveille. La première mondiale a eu lieu au théâtre Her Majesty's Theatre à Londres le 9 octobre 1986 et plus de 5 000 représentations ont été ensuite données dans la capitale anglaise. Ce spectacle a été joué dans 90 villes du monde entier et a remporté plus de 50 récompenses prestigieuses.
10
Fantastique
4.4
Reviews from 10 customer reviews
PHANTOM
MAGNIFIQUE : les décors, la mise en scène, la musique, les voix, TOUT ! BRAVO
Bonne expérience
Beau théâtre, bonne visibilité malgré le fait que nous n'avions pas choisi les places les plus chères.
Décors époustouflants, chanteurs talentueux, drôles. Spectacle compréhensible même si on ne connait pas l'œuvre originale et qu'on ne parle pas non plus anglais.
Le Phantom
C était un spectrale fabuleux!! Dans un cadre génial!!

A voir absolument;-))
Nathalie de Paris
Génial, les costumes et le décor sont magnifiques. Il faut cependant aimer la musique lyrique.
Spectacle grandiose!
Le Phahtom of the Opera est un spectacle grandiose, à grand déploiement dont les décors, la musique, l'ambiance sont époustouflants!
Magique
S'il y a une comédie musicale à voir, c'est celle-ci. Spectacle époustouflant, décors fantastiques et voix merveilleuses.
Dommage que le public anglais ne soit pas respectueux du travail des acteurs et du spectacle en général : des gens se lèvent en pleine scène, dérangent tout un rang, reviennent. D'autres se lèvent plusieurs fois pour aller chercher une bière, des téléphones fonctionnent et après l'entracte on se croirait dans une brasserie...
Phantom of the Opera
Fabuleux spectacle et quelle mise en scène !!
Système de réservation très au point !
Phantom of the Opera
Cela fait 13 ans que nous attendions de voir ce spectacle, nous connaissions l'histoire et l' oeuvre musicale par coeur et nous sommes chanteurs lyriques professionnels en France, donc nous avions un très grande attente. La perfection des enchaînements calés au millimètre, la logistique des décors et des costumes : magnifique. La précision du ballet et bien sûr la qualité vocale et d'interprétation de toute la distribution nous a laissé abasourdis, émus et émerveillés. Merci à toute la troupe!
Technique irréprochable !
Dans un cadre grandiose, la représentation est parfaitement au point, les voix et les musiciens sont remarquables. Costumes et effets de scène saisissants, il faut vivre cette expérience ! Mon bémol est strictement personnel, je n'aime pas beaucoup ce style, mais j'en reconnais la valeur.
5

Phantom of the Opera Commentaires des clients "J'ai vu le fantome 5 fois sur scéne et acheté le CD. Je le connais par coeur, mais ne m'en lasse pas et je vais aller le voir une 6ème fois en 2013. j'ADORE!"


Nathalie, Marseille

"Le spectacle vu "The phantom of the opera" est d'une qualité exceptionnelle. Pas étonnant qu'il soit présenté depuis 26 ans! Un petit bémol toutefois. Certains actes sont, par moments, joués dans une partie de la scène que nous ne pouvions pas voir depuis nos sièges."


Pierre, Evilard

"Le spectacle le plus incroyable que nous ayons vu! La musique et la mise en scène sont époustouflantes!"


Fering, Paris


"Super spectacle, dommage que les places assignées ne nous permettent pas de voir toute la scène et qu'il y avait beaucoup de courants d'air."

Eddy, Neuchâtel


"Un classique du West End qui ne vieillit pas! A mi-chemin entre le musical et l'opéra, le Fantome de l'Opéra est un spectacle à voir pour sa mise en scène grandiose et ses chansons cultes!"


Guillaume, Paris
Phantom of the Opera Critiques
"Soaring ballads and sensational stage effects."
The Daily Telegraph
---
Phantom of the Opera Communiqué de presse
MAJOR CAST CHANGES IN THE SMASH HIT ANDREW LLOYD WEBBER MUSICAL "THE PHANTOM OF THE OPERA" AT HER MAJESTY'S THEATRE IN LONDON! EARL CARPENTER TO RETURN TO THE ROLE OF 'THE PHANTOM' FROM MONDAY 12 ...


Plus d'info
Informations sur le lieu
Informations sur le spectacle
Soirées
Monday to Saturday 7.30pm
Matinées
Thursday and Saturday 2.30pm
Joue de
2013-12-11
Joue jusqu'à
2014-10-25
Durée du spectacle:
2 hours 30 minutes
Trouver le théâtre
Trouver le théâtre
(5mins) Go along Coventry Street and then take Haymarket on the right where the theatre will be approx. 200 metres along.

Regardez la carte