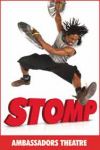 Stomp
Sur Ambassadors Theatre
Prix de € 35.60
Un rythme irrésistible ! Stomp n'est pas une comédie musicale comme les autres mais plus un spectacle original, mélange de théâtre, de danse, de comédie et de percussions. C'est 100 minutes d'énergie à l'état pur ! Billets à prix réduit pour Stomp à Londres en vente ici!

Stomp utilise des poubelles, des bottes, des briquets zippo, des éviers de cuisine, des balais, bref, tout ce qui fait les rythmes particuliers de STOMPS. On n'y croit pas tant qu'on ne l'a pas vu, entendu et ressenti.

Stomp est une valeur sûre qui fait deux tournées simultanément en Europe et aux Etats-Unis et a été présenté dans plus de 40 pays. Stomp est une expérience à vivre !
7
Fantastique
5.0
Reviews from 7 customer reviews
à ne pas manquer!
Théâtral, musical, rythmé et jamais assourdissant! Et pour les Parisiens, ils seront au Casino de Paris en avril prochain! A bon entendeur...
absolutly fabulous
Nous avons tout simplement adoré ... un excellent moment qui a cloturé notre séjour à Londres . Bravo à tous les artistes
génial
Spectacle Idéal pour des personnes ne comprenant pas l'anglais. Ce spectacle plein de rythmes (sans que ce soit assourdissant) était plein d'humour. nous avons passé une très bonne soirée. a conseiller aussi aux familles avec des enfants.
STOMP
A ne louper sous aucun prétexte!
Génial du début à la fin !!!
Ce spectacle est à voir sans problème... Du début à la fin le rythme est soutenu avec des variations d'intensités de scènes très bien organisées... On est surpris par bon nombre de tableau avec des objets du quotidien totalement détournés. L'humour et l'échange avec le public n'est pas en reste... Bref 1h30 de pure bonheur...
Génial
Un très très bon moment. Allez-y sans hésitation.
Dircetrice d'un Établissement scolaire
Fabuleux. C'est éa seconde fois que nous assistons à Stomp à Londres. On ne s'en lasse pas! C'est magique
Stomp Commentaires des clients

"Super spectacle !! on passe un excellent moment. les artistes sur scène sont très bons, ils font de la musique avec tout et n'importe quoi : balais, évier, boîte d'allumettes, papier journal, etc. Bref excellent spectacle !"

Briatore, Draguignan



Stomp Critiques
"Entrancing, Exhilarating. Terrific"
The Independent
---
"Pure Stage Magic"
Sunday Telegraph
---
"This unique percussion and dance show has evolved over the last 11 years from humble street theatre in Brighton into a worldwide, multimedia sensation"
The Stage
---
Informations sur le lieu
Informations sur le spectacle
Soirées
Monday, Thursday, Friday and Saturday 8pm
Matinées
Thursday and Saturday, 3pm, Sunday 3pm and 6pm.
Joue de
2007-09-20
Joue jusqu'à
2013-12-23
Durée du spectacle:
1 hour 40 minutes
Trouver le théâtre
Trouver le théâtre
(5mins) Take Cranbourn Street away from Leicester Square until St Martin's Lane, where you head left up to West Street. The theatre's on your left past St Martin's Theatre.

Regardez la carte