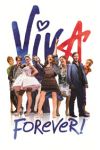 Viva Forever!
Sur Piccadilly Theatre
Prix de € 58.20
"Viva Forever!". Voici le spectacle que vous attendiez depuis longtemps à Londres!" Viva Forever!" est la nouvelle comédie musicale des Spice Girls à venir à Londres en Décembre. Réservez vos billets ici!

La nouvelle comédie musicale spétaculaire des Spices Girls "Viva Forever!" , venant au West End's Piccadilly Theatre ce mois de Décembre. Assurez-vous d'être le premier en ligne pour cette fameuse fable, avec 16 des meilleurs chansons hits des Spices Girls. Réalisé par la même équipe derrière le succès global de "Mamma Mia!", "Viva Forever!" a été écrit par Ab Fab (et le film Spice World), Jennifer Saunder s en vedette.

C'est à propos des hauts et des bas de la vie d'une mère avec sa fille, alors qu'elles participent à un concours de chants dans une émission de télé-réalité basée sur le thème des chansons inoubliables des Spice Girls y compris "Wannabe", "Say You'll be there", "Mama", "Stop" et bien sûr la chanson-titre "Viva Forever" .

Les Spice Girls sont le plus grand groupe de filles de ces 20 ans passés et ont donné leur appui total à ce spectacle! Ça va être énorme, alors réservez dès maintenant et dites que vous serez là!
Informations sur le lieu
Informations sur le spectacle
Soirées
Monday to Thursday and Saturday 7:30pm, Friday 8:30pm
Matinées
Friday 5pm and Saturday 3pm
Joue de
2012-11-27
Joue jusqu'à
2013-06-29
Trouver le théâtre
Trouver le théâtre
(2mins) Pass the famous illuminated signs on your right to take Glasshouse Street/Sherwood Street where the theatre can be seen.

Regardez la carte