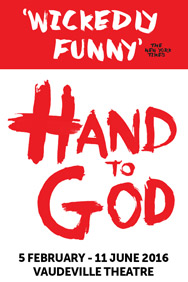 Hand To God
Au Vaudeville Theatre
Prix à partir de € 29.00
Un père mort, une famille compliquée, une fille qui veut juste aider, une petit dur à cuir qui trouve toujours son propre chemin, un homme d'église offrant du réconfort, et une marionnette qui est complètement hors de contrôle - Celle-ci est dangereuse et ne fera pas de prisonniers.


Points forts:
- Réservez vos billets pour Hand of God
- Choisissez vos propres sièges
- Quand "Sesame Street rencontre Les Exorcistes"

Hand To God
L'enfer est sur scène au Théâtre Vaudeville dans cette nouvelle comédie hilarante et provocatrice qui nous arrive directement depuis Broadway, "Cruellement Amusant" New York Times, "Quand Sesame Street rencontre Les exorcistes" le New Yorker.

Réservez dès maintenant votre place pour la pièce de théâtre la plus étonnante de l'année en provenance des États-Unis, mettant en vedette Janie Dee, Neil Pearson, Harry Melling, Jemima Rooper et Kevin Mains.

Une main gauche peut certainement être une chose dangereuse.
 
Comment puis-je obtenir mes billets?
Une fois votre réservation terminée, vous recevrez un e-ticket par email. Il suffit d'imprimer votre billet et de l'apporter avec vous au théâtre.
Hand To God Critiques
"Theatre for the YouTube generation Really - freakish, silly … it's getting my thumbs up It keeps gathering in lunatic intensity until you surrender to its madcap charms"
Daily Telegraph
---
"Full of insight and laughter … socks it to the audience Puppet sex… once seen….It's never forgotten The crowd went wild"
The Times
---
"Terrific cast. Hand To God includes the most raunchy, not to mention protracted, puppet sex scene the West End has ever witnessed."
Evening Standard
---
"Amazing cast, filthy humour and a possessed puppet. What's not to love? Highly recommended."
The Sun
---
"Hand To God finds great hope in new writing… the West End has been looking for something new to love – and we might have just found it."
Gay Times
---
"The funniest and filthiest puppet glove punch-up I've ever seen Avenue Q meet Book of Mormon, with elements of The Exorcist"
WhatsOnStage.com
---
Informations sur le lieu
Informations sur le spectacle
Joue de
2016-04-29
Joue jusqu'à
2016-04-30
Durée du spectacle:
2 hours
Itinéraire

(5mins) Head out onto the main road Strand. Cross street where possible and go right 100 metres – it's just after the Adelphi Theatre.

Regardez la carte