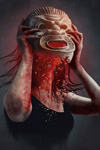 Elektra
Au Royal Opera House
Elektra the opera at Royal Opera House in London is one of Strauss's most dramatic works. Tickets to Elektra the opera at Royal Opera House in London can be booked here!

Klytämnestra has murdered her husband, King Agamemnon. Her daughter Elektra determines to avenge her father's death.

With the first chords of Elektra, we are plunged into a psychologically intense and violent world. The opera shocked audiences (and even its performers!) when it had its premiere in Dresden in 1909. Today, as then, Elektra's desperate need to avenge the murder of her father by her mother makes for gripping drama. At 90 minutes, the opera is one of Strauss's most concentrated works, and in style and instrumentation one of his most modernist scores.

The political and social fractures in early 20th-century Europe, and emerging concepts of psychology, provide a rich subtext in Charles Edwards's production. The set and costumes allude to Classical and early 20th-century art and architecture, and highlight the moral decay at the heart of Klytämnestra's kingdom. Strauss's richly-orchestrated score takes the principal singers to their vocal limits. It is characterized by dramatic musical motifs, including the distinctive 'Agamemnon' motif, used to represent Elektra's obsessive thoughts of revenge. This highly dramatic opera also contains passages of great vocal beauty, including Elektra's rapturous recognition of her brother Orest, returned to avenge his father.
Informations sur le lieu
Informations sur le spectacle
Joue de
2013-09-23
Joue jusqu'à
2013-10-12
Durée du spectacle:
1 hour 50 minutes
Itinéraire

(3 mins) The Royal Opera House is off Covent Garden piazza, which is visible from the tube station exit. There is a revolving door entrance at the piazza.

Regardez la carte