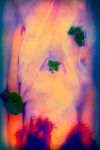 Fog. Vapour. Wisp.
Au Dark Tunnel at The Vault Festival
Prix à partir de € 21.10
Fog, Vapour, Wisp explores the dark, light and grey hues of humanity whilst begging the fundamental questions; what happens if we lose our soul-skin and how do we get it back? Are we all wandering on a stormy cliff in the darkness? How do we find our way back home? Dive in. The temperature will drop. The pressure will rise. Sometimes there'll be no sunlight at all - but life … always. Hold your breath and let us swim in the ocean of each other, dark and deep. Together, we will dredge up the seabed and see what lies there.
Informations sur le lieu
Dark Tunnel at The Vault Festival
Leake Street, Waterloo
London
SE1 8SW
Informations sur le spectacle
Joue de
2014-02-08
Joue jusqu'à
2014-02-08
Durée du spectacle:
45 minutes
Itinéraire

Leave Waterloo via Exit 1. Turn right onto Station Road Approach & keep on the right hand side. Walk to the bottom of the road & down the first set of stairs. Turn right at the bottom & the entrance is 10m on the right hand side.

Regardez la carte