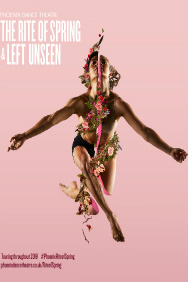 Phoenix Dance Theatre: The Rite of Spring/Left Unseen
Au Peacock Theatre
Prix dès € 24.70
Approaching group rituals from two different angles, Phoenix Dance Theatre presents an energetic double-bill of reinventions. The Rite of Spring draws on the themes of ceremony and sacrifice in a captivating performance for today's modern global society. Alongside Rite of Spring will be a new work from established choreographer Amaury Lebrun. Left Unseen explores inclusion and isolation and our instinctive reliance on the five sense. Using precise choreography, moments of unison, interaction, sporadic bursts of movement and sudden stillness Lebrun poses the question, how sensitive and aware can we become when we lose one of our sense…?
Informations sur le lieu
Informations sur le spectacle
Se Joue à partir du :
2019-06-27
Se joue jusqu'au :
2019-06-28
Durée du spectacle:

Itinéraire

Take the Central or Piccadilly Line to Holborn station. The theatre is a 10 minute walk.

Regardez la carte