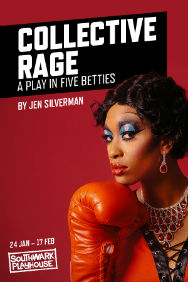 Collective Rage: A Play in Five Betties
Au Southwark Playhouse
Prix dès € 15.90
'Everybody just stared at them and loved them and wanted to be them – but nobody was.' Betty is rich; Betty is lonely; Betty's busy working on her truck; Betty wants to talk about love, but Betty needs to hit something. Meanwhile, Betty decides to stage a production of that play-within-a-play from… what's it called again? Summer's Midnight Dream? In Collective Rage, the lives of five very different New York women named Betty collide at the intersection of anger, sex and "thea-tah." As they meet, fall in love, rehearse, revel and rage, they realise that they've been stuck reading the same scripts for far too long. Hitting the ring with an electrifying soundtrack, looks to kill and spectacular routines, this outrageous comedy packs the punch to shatter lacquered femininity into a thousand glittering pieces. Strongly influenced by cabaret and female drag, this exquisite rejection of shame and stereotype will punch you in the gut, break your heart and then take you dancing. Antic Face and Nik Holttum Productions are proud to present this UK première of award-winning American Playwright Jen Silverman. Following the critically acclaimed run of School Play last year, Antic Face and Nik Holttum Productions return to Southwark Playhouse with this joyously anarchic new show. 'My PUSSY is not gonna do the acting, I am gonna do the acting. In THE THEA-TAH. People are gonna come and stare at my feelings, and those feelings will be Art.' Please note: Latecomers will not be admitted to the theatre.
Informations sur le lieu
Informations sur le spectacle
Se Joue à partir du :
2018-02-16
Se joue jusqu'au :
2018-02-17
Durée du spectacle:
1 hour 25 minutes
Itinéraire

<strong>Borough: </strong>Exit &amp; turn right towards Newington Causeway. Located just before the railway bridge.<strong>&nbsp;Elephant &amp; Castle:</strong> Exit via South Bank University Exit &amp;&nbsp;turn left, head up Newington Causeway.

Regardez la carte