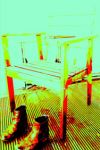 Shed & Shrine of Innocence
Au The Pit at The Vault Festival
Prix à partir de € 22.60
Shed - In a dank, dripping, draughty home-made shed, a lonely soul contemplates life beyond her own four walls. Two physical storytellers invite you to catch a glimpse of a someone who hibernates away from the rest of the world. They play out the humorous banality of human existence. Yet through the real and imaginary relationships that map out her life, fleeting between boredom and optimism, layers begin to be shed. Underneath it is strange and perhaps amusing. Is it so bad after all? No-one else is looking. Shrine of Innocence - A man is building a shrine to a woman with whom he is completely obsessed. The presence of the woman herself is by turns dark, beautiful and grotesque as he tries to make her stand up but she keeps falling down. In time the shrine is built to his satisfaction until the only thing missing is the woman herself. This scenario is repeated three times with different couples each telling a new story which is open to your interpretation.
Informations sur le lieu
The Pit at The Vault Festival
Leake Street, Waterloo
London
SE1 8SW
Informations sur le spectacle
Joue de
2014-02-06
Joue jusqu'à
2014-02-08
Durée du spectacle:
1 hour
Itinéraire

Leave Waterloo via Exit 1. Turn right onto Station Road Approach & keep on the right hand side. Walk to the bottom of the road & down the first set of stairs. Turn right at the bottom & the entrance is 10m on the right hand side.

Regardez la carte