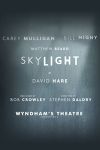 Skylight
Au Wyndham's Theatre
Prix à partir de € 110.20
Skylight in London has won a Laurence Olivier Award for Best Play and stars Bill Nighy in the leading role. Book your tickets for Skylight in London here!

Skylight was originally produced in 1995 at The National Theatre before transferring to the West End and Broadway. It was that year's recipient of the Laurence Olivier Award for Best Play.

On a bitterly cold London evening, schoolteacher Kyra Hollis receives an unexpected visit from her former lover, Tom Sergeant, a successful and charismatic restaurateur whose wife has recently died. As the evening progresses, the two attempt to rekindle their once passionate relationship only to find themselves locked in a dangerous battle of opposing ideologies and mutual desires.

Bill Nighy, whose extensive film credits include Love Actually, Notes on a Scandal and The Best Exotic Marigold Hotel and whose stage roles include Pravda and the world premiere of David Hare's The Vertical Hour on Broadway, stars alongside Carey Mulligan (Inside Llewellyn Davies, The Great Gatsby, An Education) making her West End stage debut. They are joined by Matthew Beard (An Education, One Day, The Look of Love).

Skylight is directed by Stephen Daldry who recently directed the sell-out West End production of The Audience and whose award-winning stage work also includes An Inspector Calls and Billy Elliott the Musical. On screen, his four films The Hours, The Reader, Billy Elliott and Extremely Loud and Incredibly Close together received 19 Academy Award® nominations and two wins.

David Hare is the author of 29 plays for stage including Plenty, Racing Demon, Amy's View, The Blue Room, The Judas Kiss, Pravda (with Howard Brenton) and, most recently, South Downs. His many screenplays include The Hours and The Reader.
Skylight Critiques
"Bill Nighy and Carey Mulligan give powerful and emotionally bruising performances in this new production of David Hare's play"
The Daily Telegraph
---
"The combination of private pain and public rage in this revival of David Hare's play hits you straight between the eyes"
The Guardian
---
"Bill Nighy at full belt on stage is astonishing, unbalancing, unforgettable"
The Daily Mail
---
"The actors beautifully trace the arc from the thaw of verbal sparring… through rekindled passion to the final bout of full-blooded ideological jousting"
The Independent
---
Informations sur le lieu
Informations sur le spectacle
Joue de
2014-07-30
Joue jusqu'à
2014-07-30
Durée du spectacle:

Itinéraire

The theatre can be seen opposite the station.

Regardez la carte