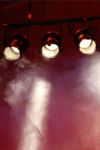 Silk Road
Au Peacock Theatre
Prix à partir de € 60.50
Silk Road is a show created by the Gansu Dance Drama and Opera Ensemble (DDOE). Using the fresco of Dunhuang and Silk Road as its background.
Informations sur le lieu
Informations sur le spectacle
Joue de
2014-01-12
Joue jusqu'à
2014-01-12
Durée du spectacle:
1 hour 45 minutes
Itinéraire

Take the Central or Piccadilly Line to Holborn station. The theatre is a 10 minute walk.

Regardez la carte