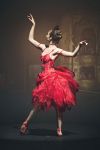 Serenade Mixed Bill
Au Royal Opera House
Serenade was the first ballet that George Balanchine made after arriving in the United States in 1933. It was created on students in his newly formed School of American Ballet and retains a hint of its classroom origins. The opening tableau – 17 dancers assembled in slanting lines – was determined by the number of students who came to the first class. When one girl arrived late and another fell and started to cry, Balanchine absorbed the incidents into his choreography. Balanchine described Serenade as 'dancers in motion to a beautiful piece of music'. The corps de ballet is in near-constant movement, flowing in and out of patterns with an extraordinary sense of speed. Although 80 years old, Serenade is one of Balanchine's most popular works – as loved by audiences and dancers as it was by its creator. Balanchine continued to rework the ballet throughout his lifetime, and it is now regularly performed by companies around the world.
Informations sur le lieu
Informations sur le spectacle
Joue de
2014-05-26
Joue jusqu'à
2014-05-26
Itinéraire

(3 mins) The Royal Opera House is off Covent Garden piazza, which is visible from the tube station exit. There is a revolving door entrance at the piazza.

Regardez la carte